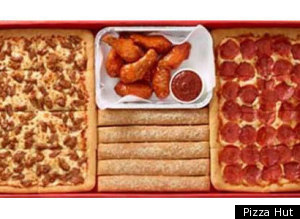 I have one question for Pizza Hut...
WHERE ARE THE VEGGIES?
***And we wonder why we have an obesity epidemic!
As a mom on a mission to create healthier dinners and raise a generation of health conscious kids this is going in the wrong direction!
Here are a few suggestions...
add a salad

add veggies to pizza

take out the fried wings

skip the breadsticks

offer some grilled veggies

fruit salad
xoxo,
Always Healthy Mom